#AAM2023 is happening now!
Register onsite at the Colorado Convention Center
2023 Registration Rates
Early Bird Rates
(end February 15, 2023)
Full meeting member rate*: $550
Full meeting: $750
Presenter: $395
Student member: $250
One-day: $300
Advanced Rates
(February 16 – May 18, 2023)
Full meeting member rate*: $650
Full meeting: $850
Presenter: $395
Student member: $275
One-day: $350
One-day MuseumExpo only (Fri or Sat): $100
On-Site Rates
–
Full meeting member rate*: $700
Full meeting: $900
Presenter: N/A
Student member: $300
One-day: $400
One-day MuseumExpo only (Fri or Sat): $100
Become a member to save!
*AAM Member rates are applicable to Professional and Retired Museum Professional Memberships, as well as staff of Tier 3 Museum Members. Your Individual membership status and your organization's membership status can be verified by logging in to view your profile. If you need additional assistance regarding your membership contact our membership team by email at membership[at]aam-us.org or visit our website to become an AAM Member today and save $200 off your Annual Meeting registration! Professional memberships start at $90/year.
Groups & Exhibitor Registration
Group registration is now open. Once four individuals belonging to the same institution, regardless of membership status, register for the Annual Meeting, any additional registrations from that institution will receive $100 off their registration at checkout.
The registration platform will use your email address domain to determine if you are part of a group (e.g. @aam-us.org). You can log in to update the email address on your profile to ensure you are recognized as part of your museum's group.
Individuals with existing promo codes or other discounts are not eligible for additional discounts, but do count towards an organization's group size minimum.
Questions about group registration? Contact membership [at] aam-us.org
Exhibitor registration to the 2023 AAM Annual Meeting & MuseumExpo is now open!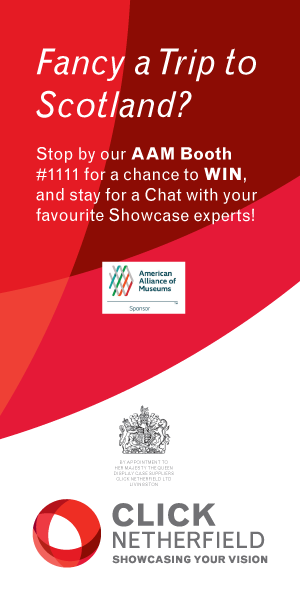 How are registration rates determined?
Every year, we look forward to bringing an impressive cross-section of the museum field together for our Annual Meeting & MuseumExpo. We learn so much from each other, and we make valuable interpersonal connections that are critical for moving our field forward.
A national conference of our size costs over $3 million over several years (in vendor and convention fees, AV, software, events, transportation, staff, etc.), and up to $850 per attendee. The average amount paid by attendees directly is $424—only about half of the real costs. We understand not everyone is able to afford the registration fee, and each year, we offer many free or deeply discounted registrations through scholarships and other opportunities.
We also know that to meet our full potential, our Alliance needs to hear from the broadest possible spectrum of people who work in our field – from emerging professionals to senior leaders, from large and small museums, and from a diverse array of individuals, particularly those in groups that are underrepresented in our field. For some, the costs of attending a conference may put this rewarding experience out of reach, and that means a lost opportunity not only for these professionals but for our field as a whole. The more voices we can include, the better our results in tackling the challenges for our field and our future.
That's why we're always looking for ways to make our Annual Meeting & MuseumExpo more affordable, both by creating opportunities to lower your costs and by increasing available scholarship funds. After four years of not raising rates, for our 2023 Annual Meeting & MuseumExpo, we have made increases in some registration fees in order to cover rising costs. For 2023, we are offering scholarships and discounted registration opportunities, as well as volunteer opportunities (more information below).
Cancellation & Substitution Policy
A $75 processing fee will be applied to all cancellations and transfers, subject to the following terms and conditions.
All cancellation and transfer requests must be made in writing via mail, fax or e-mail by published cancellation dates. The Alliance is not responsible for cancellation or transfer requests that are incomplete or are not received.
Cancellation requests received before April 15, 2023 will receive a 100% refund on registration and event fees, minus the processing fee. No refunds of conference registration, event fees, or daily passes will be granted after April 15, 2023.
Registrants who are no longer able to attend the meeting may request a substitution by submitting their request in writing. The substitute must be from the same organization, and requests are subject to a $75 processing fee. Substitutions will be accepted through May 19, 2023. Upon receipt, the original registration rate and any event tickets purchased will transfer to the new attendee. Substitution requests will not be accepted after May 19, 2023.
Discounted & Subsidized Registration
Volunteering
Our Annual Meeting & MuseumExpo is made possible in part through the work of our volunteers. For every 4 hours volunteered, one complimentary day pass will be issued, or for 8 hours volunteered, receive a full complimentary registration. Learn more and sign up to volunteer.
Scholarships
The AAM Annual Meeting Scholarship is a professional development opportunity that provides financial support for museum professionals and US-based students to attend the AAM Annual Meeting & MuseumExpo. The program is designed to nurture greater inclusivity—for the benefit of museums, museum professionals, and the diverse audiences they serve—by supporting the professional development of individuals from underrepresented or marginalized groups. The application period for 2023 is now closed. Meet our 2023 scholarship recipients!
If you are able to support access to the Annual Meeting through the scholarship program, please consider making a donation on our website here.
Subsidized Registration
Our heavily subsidized registration level is for Denver area museum people working to make our field better and seeks to strengthen and connect the host city's museum professional community in all its diversity. Through the support of our generous donors and members, we are offering subsidized registrations for up to 50 museum people who live or work in the Denver metro area (identified as the seven county tax district of SCFD).
Applications for subsidized registrations closed on March 22 and notifications were sent in March. Those selected received a fixed-rate code that you can use to receive the subsidized $100 registration rate to attend #AAM2023 (up to $900 value).
Code of Conduct
The American Alliance of Museums is dedicated to providing a safe, inclusive, and welcoming conference experience for everyone. We do not tolerate discrimination or harassment in any form. Read our full Code of Conduct.