2022 AAM Annual Meeting Scholarship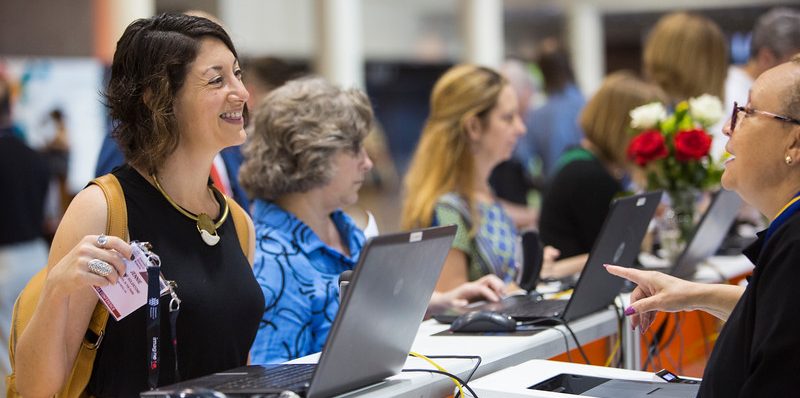 AAM Annual Meeting Scholarship Program
The application period for 2022 Annual Meeting scholarships has closed.
About the Program
The AAM Annual Meeting Scholarship is a professional growth opportunity that provides financial support for museum professionals and US-based students to attend the AAM Annual Meeting & MuseumExpo. The program is designed to nurture greater inclusivity—for the benefit of museums, museum professionals, and the diverse audiences they serve—by supporting the professional development of individuals from underrepresented or marginalized groups.
Eligibility
2022 AAM Annual Meeting Scholarship applications are encouraged from individuals (members or non-members) who identify as underrepresented or otherwise marginalized, including but not limited to:
Persons of color
LGBTQ+
Persons with a physical, cognitive, or developmental disability
Preference may be given to applicants who:
Are early or mid-career professionals
Are leaders of small institutions of 10 or fewer staff
Had their employment negatively impacted due to the pandemic
If you are selected to receive an AAM Annual Meeting Scholarship, you will receive:
Complimentary registration to #AAM2022 (up to $795 value)
One year of AAM Individual Professional membership (up to $90 value)*
Ticket to AAM evening event and one Professional Network lunch or breakfast
$750 travel stipend
*Current AAM Individual Professional Members will receive a one-year complimentary renewal on their current membership
#AAM2022 Scholarship Recipients will be required to:
Participate in a pre-conference call in late April or early May
Attend each day of the Annual Meeting & MuseumExpo in Boston May 19-22
Participate in educational and networking activities at #AAM2022, depending on their experience and interests
Submit a post-conference survey (to take no longer than 30 minutes to complete)
Scholarship recipients are expected to follow any #AAM2022 guidelines provided by AAM before and throughout the conference.
How to Apply
Applicants submit their applications via an online form. Individuals are encouraged to compile their application materials before starting the online process. Applicants will not be able to save and return to complete their applications later. Incomplete applications will not be accepted.
Application materials include the completed application form, along with a single PDF document to include: 1) Essay (500 word maximum), and 2) Resume/Curriculum Vitae (2-page limit)
The essay should address the following:
#AAM2022 will center on four key focus areas: Museums in Society, Innovation, Organizational Culture, and Financial Wellness. Please prepare a single essay (no longer than 500 words) addressing the following questions:
How will your participation contribute to the rich, diverse discussions at the Annual Meeting with regard to any of these key focus area(s)?
How will your participation at the conference contribute to your professional growth?
How will you plan to share knowledge from the conference in your work or academic studies?
THE APPLICATION PERIOD FOR 2022 SCHOLARSHIPS HAS CLOSED.
You will be notified as to the status of your application by March 4.
Questions? We're happy to help! Contact us at membership@aam-us.org.