2023 Annual Meeting & MuseumExpo Open Call for Proposals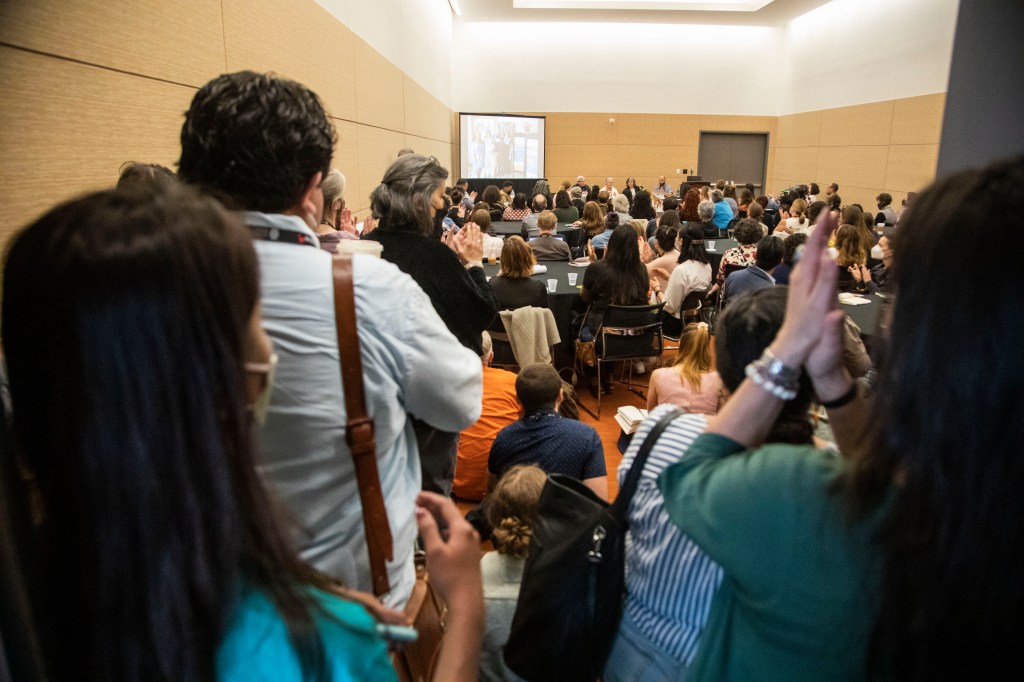 Present at #AAM2023!
The 2023 Annual Meeting & MuseumExpo Call for Proposals is Now Closed.
Notifications will be sent by January 2023.
Overview
The 2023 AAM Annual Meeting & MuseumExpo (#AAM2023) will connect museum professionals from around the world by exploring inspiring content on the theme of Social & Community Impact across four tracks: people, planet, power, and possibility.
This year, #AAM2023 programming will also include a full day of tactical, hands-on workshops and sessions on key concepts, frameworks, and practices associated with identifying, measuring, and sharing institutional social impact from leaders within and beyond the museum field.
The call for proposals is now open through October 28, 2022. No session proposals will be accepted after October 28.
Themes & Tracks
The value of museums to society transcends their traditional focus on collecting, preserving, and interpreting. At their best, museums are vital infrastructure, sustaining healthy, inclusive, and resilient communities by enriching education systems, bolstering economies, strengthening societal cohesion, improving peoples' well-being, and beyond. It is this social & community impact–the changes in the lives of people–that truly exemplifies the power of museums and the people who work within them to change the world. How can more museums harness this power, building thriving, relevant institutions that people consider essential? #AAM2023 will explore the many ways museums are integrally weaving themselves into their communities, creating a better world for all, using four thematic tracks: people, planet, power, and possibility.
People
From workforce culture and effective leadership to the mental health and wellness of frontline staff and community members, human beings are fundamentally at the heart of why museums matter to society. Example topics in the people track include:
Workforce culture
Effective leadership
Mental health and wellness
Labor practices
DEAI
Representation
Education
Mental health/wellbeing
Trauma response
Human rights
Planet
The climate crisis poses a threat to all museums' communities, collections, staff, and missions, and explore environmentally sustainable practices for every type of museum. Investigate museums' fundamental role in catalyzing a triple net effect for our planet's health that encompasses economic, social, and environmental issues, within and beyond their walls. Example topics in the planet track include:
Climate crisis
Natural disasters
Water
Energy innovations
Environmental justice
Environmental disaster preparedness
Carbon neutrality
Food security
Migration/immigration
Globalization
Public health (including pandemics)
Power
As the U.S. grapples with a long overdue racial reckoning, a global pandemic, mass shootings, and the widespread diffusion of misinformation, the need to leverage our influence and empower our communities has never been more urgent. Example topics in the power track include:
Equity
Civic learning and engagement
Activism
Advocacy
Governance
Issues of truth
Trust
Accountability
Possibility
Come ready to engage on a host of topics through the lens of money, exploring the role government, corporations, philanthropic entities, and individuals have to play to advance the possibility of sustained prosperity for all museums and their local communities. Example topics in the possibility track include:
New trends in philanthropy
Revenue streams
Fundraising
Reparative finance/restorative economics
Public-private partnerships
Museums and institutional collaboration/resource sharing
NFTs/crypto and blockchain fundraising
Business models
Effective fundraising
Digital
Ethical investing
Reducing funding barriers
Funder expectations
Session Formats
Your proposal should fit into one of the following format types:
Roundtables: These one-hour facilitated roundtable discussions allow attendees to connect with colleagues in-person through interactive programming designed to expand their networks. They will share challenges, successes, and new ideas while getting inspired to learn more. Facilitators will be knowledgeable in a topic area that aligns with one of the 2023 thematic tracks and is prepared to lead and guide roundtable conversations that insight thoughtful discussions. A facilitator may also ask participants to brainstorm in workgroups, collaborate on a project, or simply share stories. No slides will be used in CONNECT sessions. Handouts or other resources are preferred. There is a limit of 4 facilitators for this format.
Sessions: These traditional one-hour sessions include professional development, learning, and conversations based on the four 2023 tracks. Presentations may include storytelling, workgroups, panels, or standard instruction. Attendees should leave inspired and challenged to amplify the impact they have on their communities. These sessions generally include a slide presentation with optional handouts and resources. There is a limit of 6 presenters for this format.
Workshops: These 1.5-hour workshops will help attendees deepen their practice through a full day of hands-on workshop programming. These trainings will help participants apply the principles and postures of social impact within their own context and community. Workshops will focus on the "how-to" and provide attendees with tangible tools and outcomes to take with them. These interactive workshops will provide an hour of presentation with an additional 30-minutes for workgroups, breakouts, or discussions. These sessions generally include a slide presentation with handouts and resources (highly recommended). There is a limit of 6 presenters for this format.
Poster & Poster Talks: These eye-catching visual representations of research, programs, or data are printed and displayed in the MuseumExpo hall. Poster presenters may be invited to provide an overview in a 10-minute talk. There is a limit of 2 presenters for this format.
Questions to Help You Prepare Your Proposal
Who's presenting with me?
AAM is committed to diversity, equity, accessibility, and inclusion. Presenter panels and their institutions should be diverse, inclusive, and provide varying perspectives. Be sure to consider where diversity is represented in the demographic areas of the selected panelists.
How does my proposal connect to the AAM theme?
Be sure to be clear with your proposal description while highlighting the connection to the Social & Community Impact theme. You will be asked to describe how you intend to interact with the audience, and what the attendee will gain by attending your proposed roundtable, session, workshop, or poster.
Who's my audience?
Think of the attendees who would benefit most from your proposal's content. If your proposal is selected, this filter will help attendees discover the content that addresses their professional development needs.
The 2023 Content Advisory Committee and Review Process
The 2023 Content Advisory Committee will host an open call for proposals from September 28 through October 28 at 11:59 PM PT. The Content Advisory Committee is a diverse group of subject matter experts in various topic areas specific to the 2023 Annual Meeting theme. The CAC volunteers their services to thoroughly review proposals to ensure they align with the 2023 theme, address the educational needs of attendees, offer diverse perspectives, and appropriately utilize the proposal's selected format type. The committee will select proposals that are relevant and current, and offer practical techniques and useful resources.
The Content Advisory Committee is looking for proposals that:
Dive deep into and directly align with the selected focus area
Showcase varied perspectives on events, issues, and topics
Are relevant to a diverse range of disciplines, cultural perspectives, geographic locations, and/or museum size
Clearly state the relevance of the topic to attendees' professional and personal development needs
Offer practical and relevant examples and how to apply them, with helpful resources and takeaways
Include audience discussion and participation (in some formats, heavy audience engagement and interaction)
Proposals may not be accepted based on the following criteria:
Narrow: topic is too narrowly focused to have broad appeal
Underdeveloped: topic did not offer any new insights or innovation in the area
Unclear: proposal description lacks clarity and/or specificity
Lacking Diversity: proposal content lacks applicability to a diverse range of disciplines, cultural perspectives, geographic locations, and/or museum size
Session proposals will be scored using a 1–5-point scoring system. The CAC will rate proposals using the following rubric:
1=does not meet criteria; 2=needs improvements; 3=not specified or unclear; 4=meets criteria; 5=exceeds expectations for criteria. The highest possible score is 30 points.
Criteria:
The proposal topic directly speaks to the selected content focus area
The proposal content is clear and can be presented in an effective and meaningful way
The learning objectives are clear, relevant to the topic presented, and appropriate for the audience
The proposal provides attendees with relevant, timely, and applicable content with useful takeaways
The proposal offers diverse perspectives or content, and diverse contexts
The format selected to present this proposal is appropriate
The call for proposals is now closed. Final decisions will be sent by January 2023. We value the expertise of our Content Advisory Committee and their decisions are considered final.