Traveling to the
Colorado Convention Center
Airline Discounts
We are pleased to partner with Delta, Southwest, and United Airlines to offer special airfare rates for 2023 AAM Annual Meeting & MuseumExpo attendees, reflecting discounts of up to 10 percent off published fares. To receive these special fares, you must reference the offer codes below when making reservations.
Delta Airlines
Delta Airlines is pleased to offer special discounts for AAM Annual Meeting attendees. Please click here to book your flights. You may also call Delta Meeting Network® at 1.800.328.1111* Monday–Friday, 8:00 a.m. – 6:30 p.m. (EST) and refer to Meeting Event Code NM2CL
United Airlines
To make flight reservations with United Airlines online please click on discount code ZMXT359054. MileagePlus members earn valuable miles for their travel when using the Meetings discount code. You may also call United Meetings Reservation Desk Monday – Friday at (800) 426-1122 for booking assistance. Booking fees are waived for Meeting reservations. International customers may contact their local United Reservation Desk. Discounts are based on published fares. Some restrictions may apply.
Southwest
Book your flights on Southwest using this link and Company ID (99689015) to qualify for special rates and increased Rapid Rewards® earnings. Once you enter the company ID you will be able to book flights and receive a 3% discount on flights, a Rapid Rewards bonus of 25% and free name changes up to 24 hours before the flight. Travel must be booked between Feb. 15, 2023-May 14, 2023, for travel from May 14, 2023 – May 24, 2023
Denver Airport
Attendees traveling to Denver for the Annual Meeting will fly into the Denver International Airport (DIA), located on the West side of Denver. All other Colorado airports are outside the Denver-metro area.
Many services will guide you to exit the airport at a specific door number. Look for these on the door in a circular bubble (see image).
Traveling from the airport
Denver Airport Rail Line
At a cost of $10.50, travelers can use the A Line to get from the airport to downtown Denver and vice versa, courtesy of the Regional Transportation District (RTD), metro Denver's public transit provider.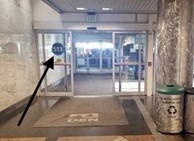 The A Line will take you to downtown Denver, specifically Denver Union Station, which is the city's transportation hub. From Union Station, travelers can access additional local and regional transportation services, such as light rail, regional and local buses, Amtrak rail service, taxis, the free 16th Street Mall shuttle (MallRide), and free downtown MetroRide buses that provide access to most downtown hotels.
The Denver airport rail has six stops between the airport and Denver Union Station. The 23-mile ride takes approximately 37 minutes.
Buses
The city's public transport system, Regional Transportation District (RTD), also operates four bus routes under the frequent airport express bus service called SkyRide. Board at the DEN Transit Center, Level 1, adjacent to the Westin Denver International Airport Hotel. The DEN Transit Center can be accessed at the south end of Jeppesen Terminal by exiting through the glass doors and taking the escalator or elevator down to ground level. Bus schedules vary based on day of week and time of day. Please contact RTD for complete route information. All of RTD's SkyRide buses are wheelchair accessible.
Taxis and Cabs
A cab or taxi can put you in the heart of the city in about 25 minutes. You'll find taxis at Level 5, Island 1, outside Door 507 (east side) and Door 510 (west side). Flat rates are the same for all companies.
Hotel Shuttles
Many Denver hotels provide free shuttle service to and from DEN. If your hotel provides this service, meet your hotel shuttle, charter bus or on-airport or off-airport parking shuttle at Level 5, Island 3 and follow signs to your company.
Rental Car Shuttles
More than 10 major rental car companies serve Colorado travelers out of DEN. Car rental agencies are located on airport property and provide courtesy shuttle service to and from Jeppesen Terminal. Shuttles pick up and drop off from Jeppesen Terminal Level 5, Island 4, outside Doors 505–513 (east side) and 504–512 (west side). See the full list of rental car companies.
Airport Shuttles and Ride Shares
Meet your shared-ride airport shuttle at Level 5, Island 5. If you have requested rides through the Lyft or Uber apps, follow signs for ground transportation, then exit the terminal through Doors 506–510 (west side) and 507–511 (east side) on Level 5 near baggage claim and proceed to Island 5 to meet your driver. See DEN's website for more information and helpful tips. For Avail, a peer-to-peer car-sharing service, use the free USAirport Parking shuttle at Level 5, Island 3 to get to their lot near the airport (tell the shuttle driver you're with Avail). Shared van service is also available for trips around the metro area and throughout Colorado.
Accessibility
The following ground transportation companies pick up passengers with accessibility needs at curbside on Level 5, west-side of Jeppesen Terminal with prior notice.
Dashabout: 2-day advance notice required: (800) 720-3274
Metro Cab: (303) 333-3333
Mobility Plus (Yellow Cab): 24 hour on-demand wheelchair accessible service: (303) 777-7777
Mobility Transport Service: 24 hour advance notice required: (303) 295-3900
RTD access-a-Ride: (303) 292-6560
Local Travel
Free 16th Street Shuttle (MallRide)
Traveling from one end of Denver's bustling 16th Street Mall to the other, the Free MallRide runs seven days a week and stops on every block between Civic Center Station and Union Station. The Free MallRide starts running at 4:59 a.m. on weekdays, 5:30 a.m. on Saturdays and 6:30 a.m. on Sundays/holidays. Service continues throughout the day with the last complete round-trip of the night starting out at 1:19 a.m. from Union Station to Civic Center Station.
Public Transportation
RTD provides bus and rail services across the Metro Denver Area with the Theatre District–Convention Center station serving the Colorado Convention Center where #AAM2023 is taking place.
Driving Directions
Renting a car while in Denver or already based locally? Get driving directions to the Colorado Convention Center.
Parking
The Colorado Convention Center has a 24/7 garage. Find rates, accessibility information, directions, and more about parking in the Colorado Convention Center garage on their website. Due to the expansion of the Colorado Convention Center, their parking garage capacity has been reduced and alternative parking can be found at many lots and garages around the Convention Center.